Our Team
Meet the management staff of Cheeriodicals...
Gary Parisher
President and CEO
Gary has 22 years experience in pharmaceutical/biotech sales, marketing, national accounts and business development with Fortune 500 companies including: Genzyme, Amgen and Astra-Zeneca.  He led the launch of Cheeriodicals.com to offer an online solution for personal, unique and useful gifts for hospital patients in 2011.  His online success led to the development of the team building concept as a separate market to allow large organizations to come together to assemble gift boxes for children and deliver to an entire hospital full of children.
Gary earned a Bachelor's of Business Administration from East Carolina University.  He earned his Masters in Business Administration from Auburn University Montgomery.
Mary Martha Parisher
Founder and COO
Mary Martha has more than 15 years of experience as an attorney across several industries, with more than 10 of those years as corporate counsel for a major pharmaceutical company.  That experience in compliance in the healthcare market has been a crucial part of her success with Cheeriodicals.  She had the original idea to create a cheer-up gift concept that would be perfect for hospital patients, both adult and children.  She realized that hospital patients were often sent flowers or balloons as gifts, but also sensed these gifts were not ideal for many patients.  She turned that singular idea into an online company that provides one-of-a-kind, upscale options to hospitals patients, consumers in many other markets as well.
Mary Martha earned her BS in Marketing and MBA from Auburn University Montgomery.  She earned her Juris Doctorate at the Cumberland School of Law at Samford University.
Ben DeLoach
Director of Business Development and Events
Ben has a diverse background that includes 15 years of vocational ministry experience in Christian churches and 10 years of IT related experience that includes web development, Internet marketing, and IT consulting. His training and experience in teaching, public speaking, and counseling has enabled him to lead Cheeriodicals team building events consisting of a few to thousands while also being sensitive to the unique needs of hospitalized children and their families during Cheeriodical delivery events. Day to day, Ben leads many of the technology dependent marketing strategies that help Cheeriodicals "deliver smiles" around the country.
Ben earned a Bachelor's of Business Administration with a focus in Computer Information Systems from The University of North Alabama. He earned a Masters of Divinity from The Southern Baptist Theological Seminary.
Martha Shaw
Office and Warehouse Manager
Martha's professional background is rooted in banking and the medical field where she worked prior to taking the opportunity to stay home with her children. She has held several board positions and also served as president of a non-profit organization for young girls. She is an avid volunteer with children and teens working with local Boy Scout Troops as well as middle school and high school robotics teams.
Martha has been an integral part of forming Cheeriodicals' inventory management and shipping processes since 2011. In addition to overseeing the fulfillment of nearly every individual gift delivered by Cheeriodicals she also manages the packing and shipping of thousands of gift boxes for team building events across the country.
Martha earned her BA in Psychology with a double minor in Mathematics at Auburn University.
Rachelle Stone
Consultant for Meeting & Event Planners
Rachelle has over 27 years of experience in the Team Building, Destination Management and Meeting & Event industries. Having built and sold two successful small business (a My Gym Children's Fitness Center franchise and a Miami-based Destination Management Company) she has brought all her combined years of experience to Cheeriodicals assisting with market education and business development within the meetings industry.
"Joining Cheeriodicals brings all I've done in my life full-circle back to my roots with team building and working with children. I struggle to call what I do work, I love it that much!"
Rachelle earned her AA in Recreation & Leisure Services from Greenfield College in Massachusetts with a focus on commercial recreation, a Mouster's Degree from Disney University and a CLC (Certified Life Coach) from the Institute of Life Coach Training.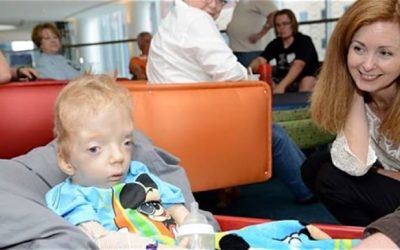 We spend our days delivering Big Green Boxes of Cheer to hospitalized children all across America. Each of these deliveries are life-changing, no question about it. Sometimes we are fortunate enough to meet a child that stands out more than others; sometimes we meet...
Bring smiles and brighten the day of an entire hospital by engaging your team in a corporate team building event they'll always remember!