In the News
A Cheeriodicals Day Event has such a unique formula that our Press Releases are often shared across national media platforms. The story of corporate America coming together, rolling up their sleeves, removing their coats, and assembling "cheer-up" gifts for children, then delivering in person to the children's hospital is always of great interest. With a world full of white noise and the same humdrum news coverage, a story of cheer delivered and hope restored by corporations in person is a message that people love to share. Please see the following Press Releases to get a feel for the magic.
Omaha Magazine – Northwestern Mutual Visits Children's Hospital
Northwestern Mutual employees recently teamed with the Children's Hospital & Medical Center Foundation to deliver 170 boxes of cheer to children suffering from cancer and other ailments.
"Look, Mom, it's a glow sword!" 5-year-old Sammy Nahorny chirps as he digs through a bright green Cheeriodicals box packed to the brim with smile-inducing toys, crafts, and more. Sammy, who lives in Columbus, is battling neuroblastoma.
His mother, Erin, is the recipient of her own Cheeriodicals box, this one loaded with reading materials (including Omaha Magazine and HerFamily) along with other grown-up goodies. "We haven't seen a smile like that on Sammy's face in three or four days." She beams as her son shifts his attention to adorning his fingers with light rings and laser talons. "Whoever came up with this idea is a genius," she adds. "What a fabulous boost it is to have you here doing this for Sammy."
Savannah Magazine – Gulfstream Aerospace Delivers Cheer
Giant green boxes filled with cheer brought smiles to dozens of faces at the Children's Hospital at Memorial University Medical Center. As a part of a team-building exercise for participants in Gulfstream Aerospace Corp.'s management development program, about 29 Gulfstream employees assembled and hand-delivered 120 gift boxes, all carefully curated with age-appropriate toys, treats and activities for girls and boys—and even parents of patients—at the Children's Hospital. Read More…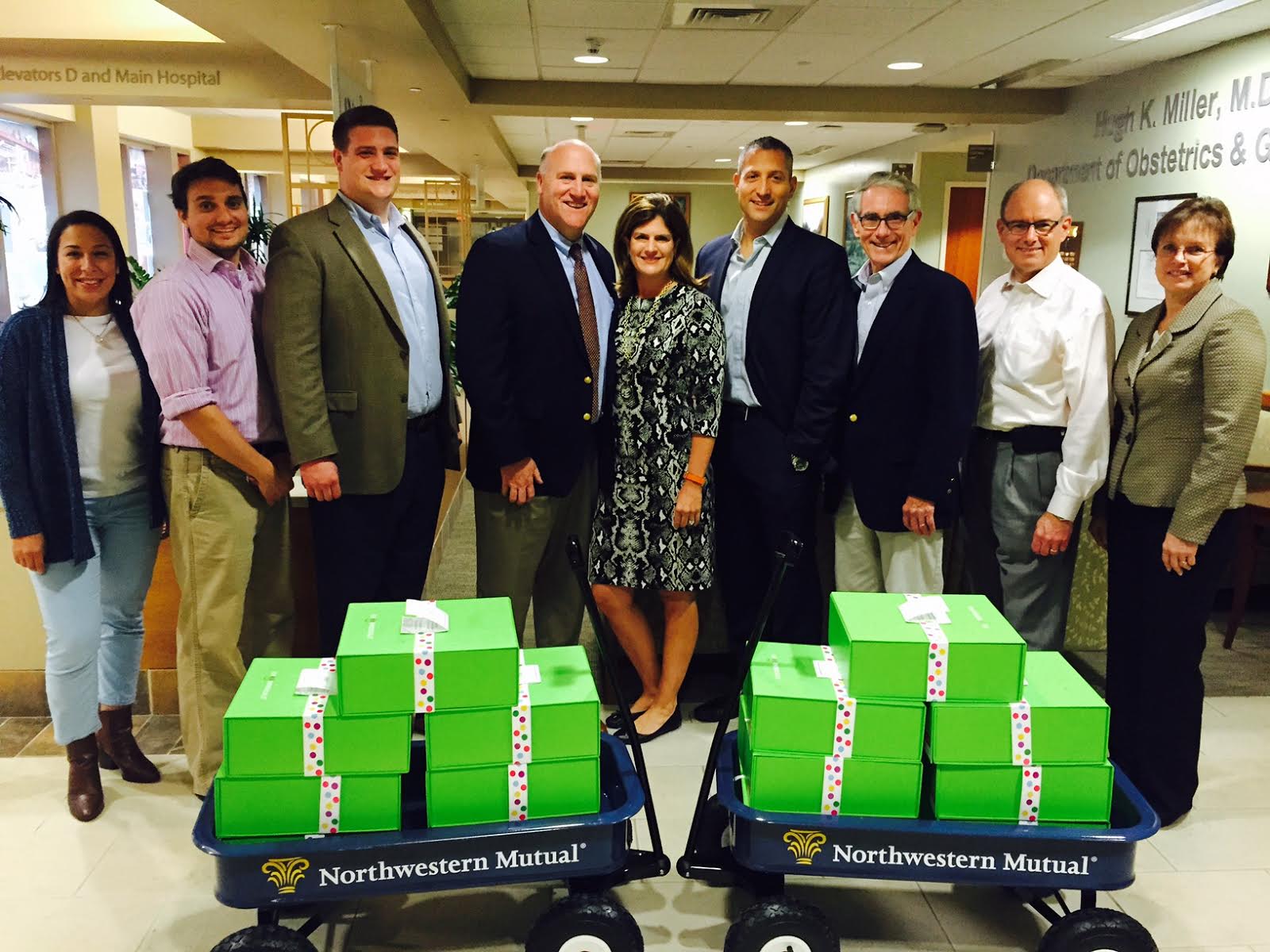 Stamford Magazine – Northwestern Mutual Visits Stamford Hospital
An enthusiastic team from Northwestern Mutual – Stamford assembled and delivered 100 big green boxes of cheer to the new mothers and hospitalized children at Stamford Hospital on October 2.  This day of smiles for our local hospital began when the local Northwestern Mutual office came together as a team to assemble the Cheeriodicals.  After assembling the gifts, along with a couple of children's wagons, the team then delivered the surprise gifts to Stamford Hospital in person with a helping hand from Two Men and a Truck Norwalk. Read More…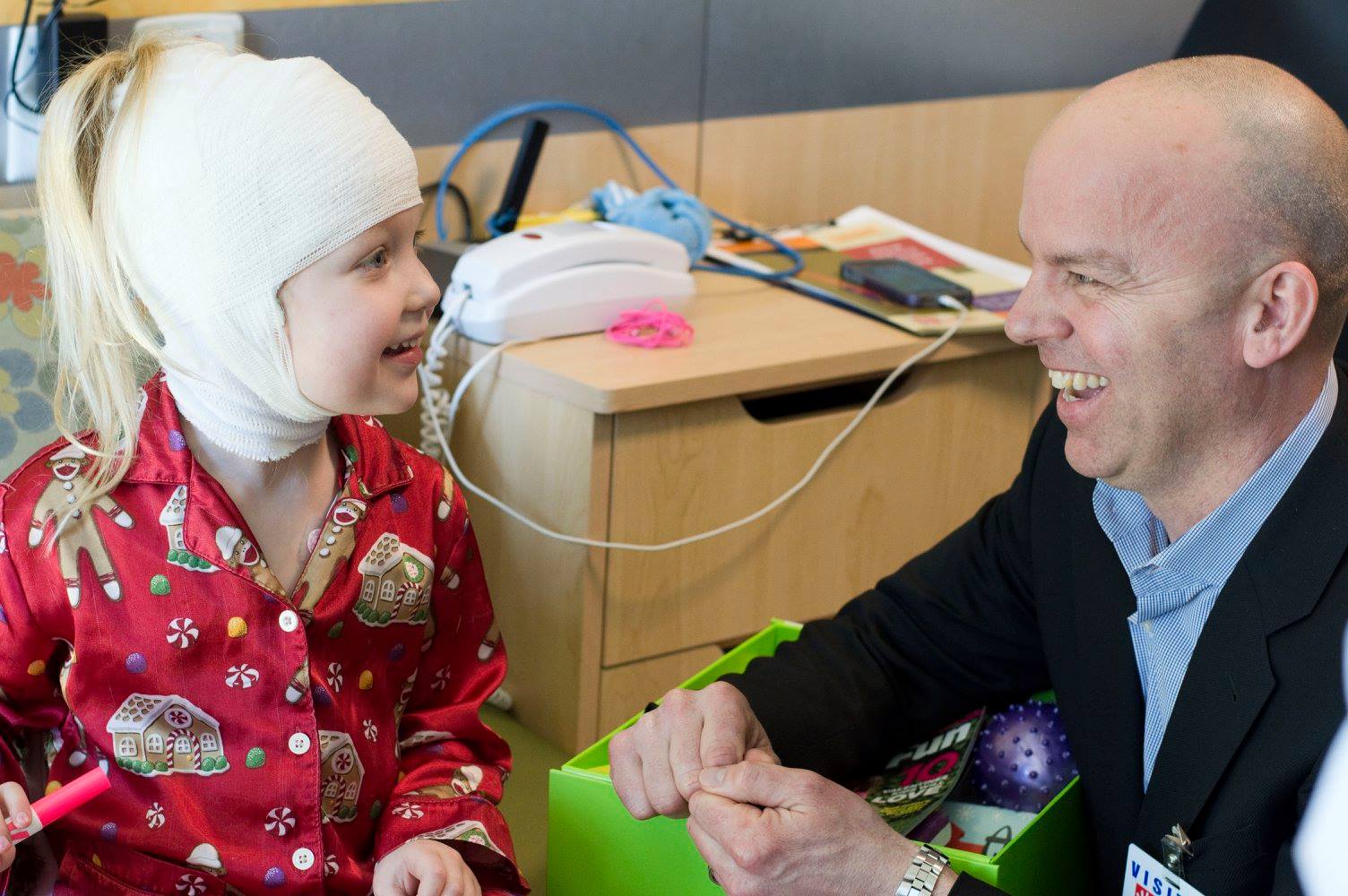 KTAR News – Thermo Fisher Scientific Spreads Cheer to Phoenix Children's
Hundreds of patients and parents at Phoenix Children's Hospital felt the warmth of their community this week with the arrival of a bunch of bright green boxes.
Ten-year-old Lilly Barrett was one of more than 400 patients who tore into the boot-box sized "Cheeriodicals." The name was borne out of the boxes' cheery contents mixed with children's periodicals and books.
The day before their delivery, 1,400 employees from Thermo Fisher Scientific in Anthem filled the boxes as part of a team-building project.  Betsy Rosebrugh, manager of Child Life and School at PCH, escorted the deliveries to several floors for children of various ages.
The Times News – LabCorp Spreads Cheer to UNC Children's
Nearly 150 employees from LabCorp worked with Cheeriodicals to deliver cheer to patients Wednesday at UNC Children's Hospital.
Cheeriodicals are "big green boxes of cheer," in this case containing age-appropriate magazines and activity books, room decorations, puzzles, stickers and games.
The LabCorp team, working with representatives from Cheeriodicals, assembled the gift boxes as a community-focused team-building activity. The boxes were tailored for boys or girls, and for age groups.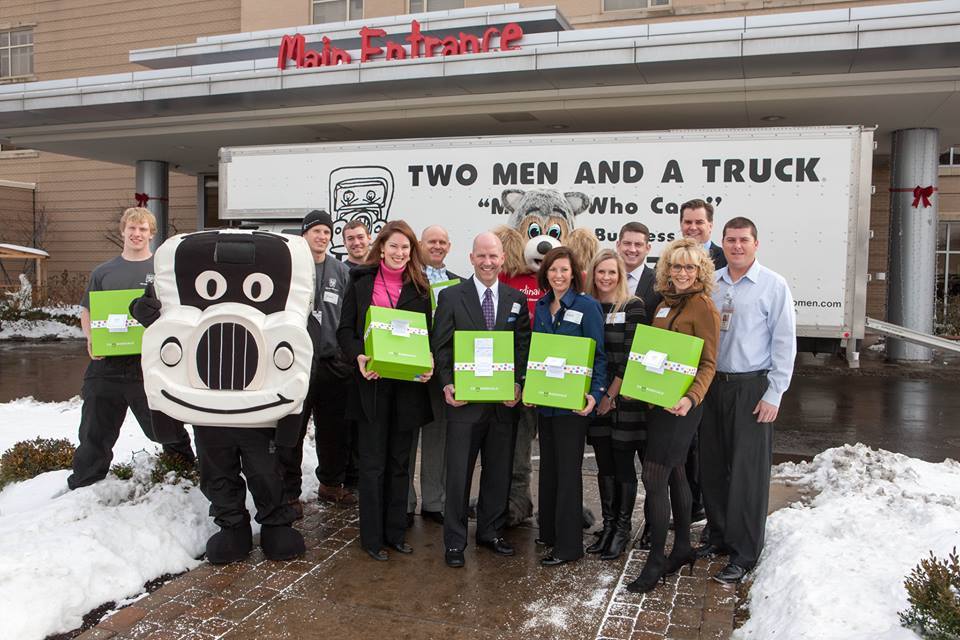 Town & Style Magazine – Northwestern Mutual Spreads Cheer to Cardinal Glennon Children's Hospital
Ever since he was very young, 11-year-old Oliver Koehler has routinely visited SSM Cardinal Glennon Children's Hospital to manage his various food allergies, but Jan. 8 was the first time he went home with a present just for him.
It was Cheeriodicals Day at the hospital, and more than 200 children received a bright green box. Inside Oliver's box, specifically packed for a boy his age, were toys, goodies and magazines, including one commemorating the 2011 Cardinals World Series win. "My son was so excited when he opened his box, it was like Christmas all over again," says Yvonne Koehler, Oliver's mother and a nurse at the hospital.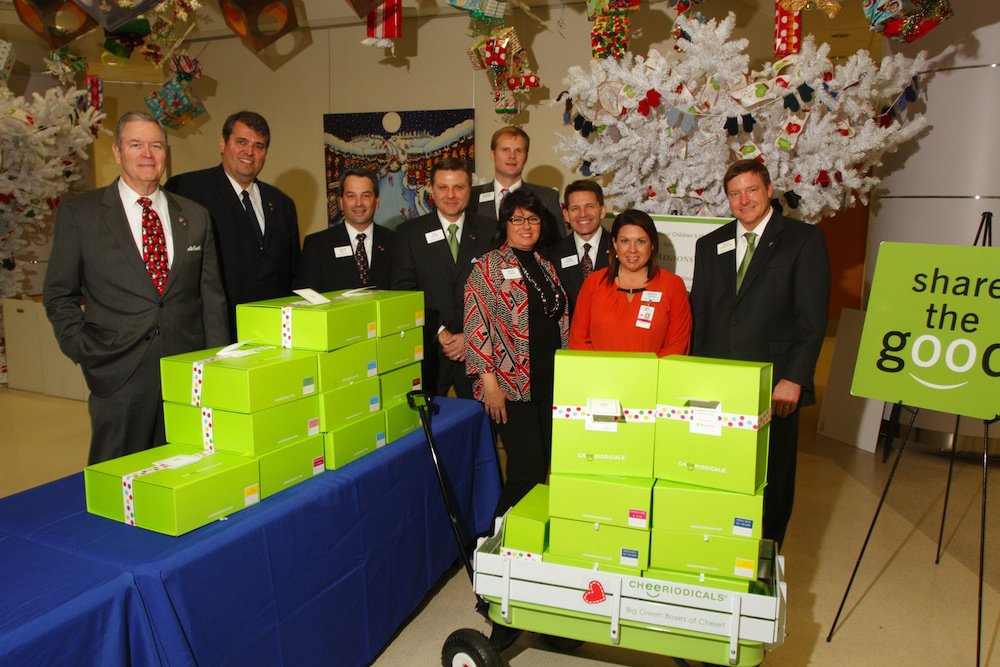 Memphis Magazine – Regions delivers cheer to LeBonheur Children's Hospital
Associates of Regions Bank and Cheeriodicals brought some holiday joy to Le Bonheur Children's Hospital in the form of 130 "big green boxes of cheer." Patients at the hospital received activity books, room decorations, stickers, games, and even piggy banks (courtesy of Regions). "Making life better for others is at the core of what we set out to achieve every day," says David May, area president of Regions Bank.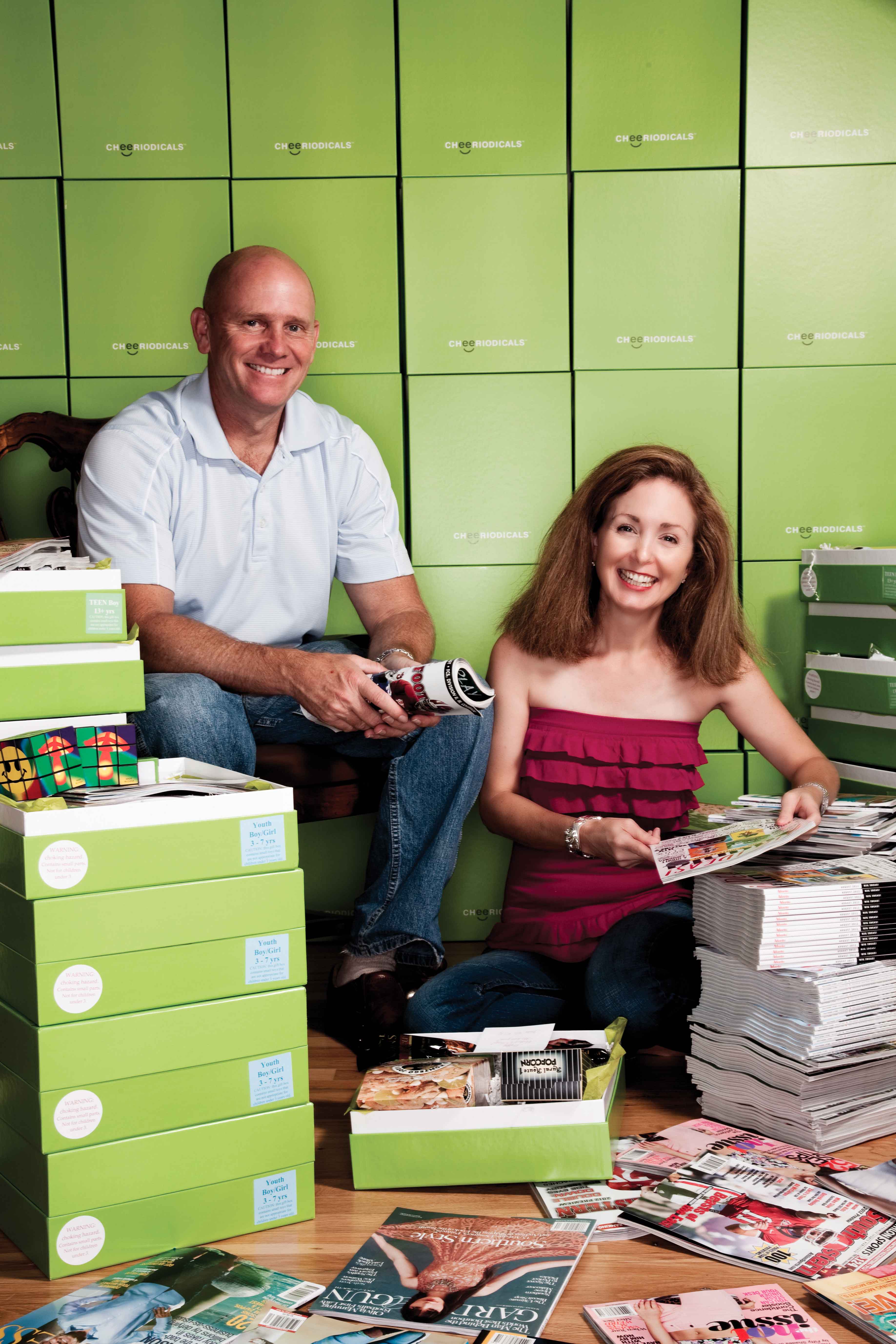 Cheeriodicals bring smiles to ailing kids and precious "me" time to others.
It all started with an act of kindness and caring. Mary Martha Parisher's uncle was undergoing chemotherapy at MD Anderson Cancer Center in Houston, Texas. She thought he might like some cheering up. She knew how much he enjoyed fishing. So she called the hospital gift shop and asked if they could deliver a handful of fishing magazines to his room. Their response was, "We don't have fishing magazines, and even if we did, we don't deliver them to patient rooms."
That's when the idea came to Parisher and her husband, Gary. They would create a business where people could receive their favorite magazines and some snacks in a gift box. That seed of an idea blossomed into Cheeriodicals. A Cheeriodical is comprised of a distinctive, upscale keepsake box with four magazines and tasty edibles. You can choose one based on someone's gender or interests, or on occasion or season.
It sounded like a great idea, but what they really wanted was to bring a smile to a child's face, so they tested the product. They gathered some magazines a child would enjoy and some snacks and surprised a patient at Children's Hospital. "The look on his face said it all," Gary says. "It was the biggest smile you've ever seen.We just looked at each other and knew we had found our calling."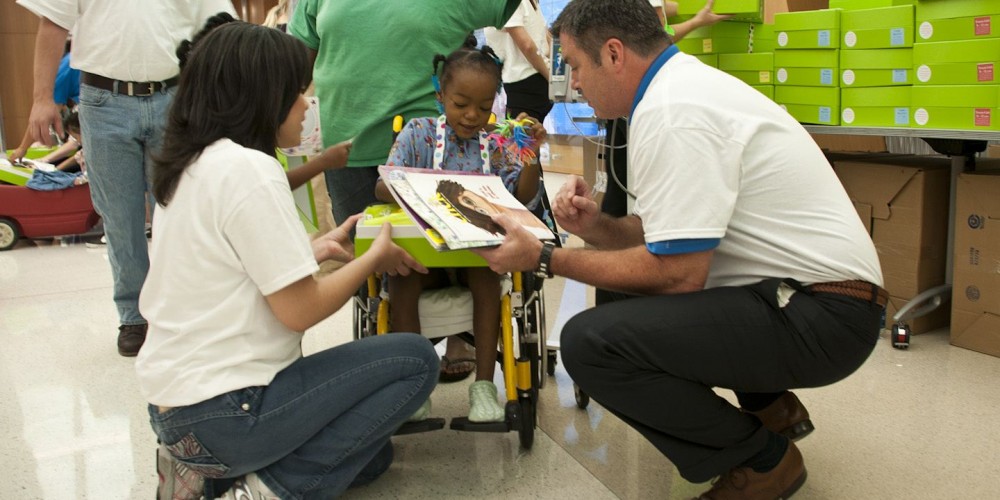 Atlanta Magazine – M9 Solutions Delivers Cheer 
Cheeriodicals, a gift company based out of Mt. Laurel, spread cheer at Children's Healthcare of Atlanta on Monday. They delivered, thanks to the corporate sponsor M9 Solutions, more than 250 big green boxes filled with magazines, activity books, crayons, puzzles, games and more to patients.